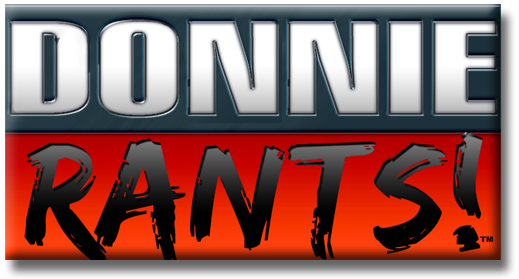 Lately
, Donnie has been thinking a lot about how ignorant society has become. Why do so many people seem to lack common sense? For instance, Donnie has always thought that offshore drilling was just plain stupid. Why wrap up so much time and money in trying to find oil, when you could use those efforts in developing clean, renewable energy? Steam-powered cars have been around for over a hundred years. Solar-powered cars have been around since at least the seventies. You're telling Donnie we can watch a movie on our cell phones, but we can't improve on hundred year old technology to make it relevant for today? Bull snot! It's all about big business, big oil companies, and the selfish politicians who would rather hold us back than earn an honest living. Newsflash, dingus, offshore drilling is costing us lives, and is adding to the deterioration of the environment. To all the idiots who laughed at Donnie when he said the drilling was a bad idea, Donnie TOLD YOU SO. The recent gulf oil spill proves it. Do you have any idea how much of a burden it is to Donnie to ALWAYS BE RIGHT? We would all save so much time and energy if we just took Donnie's views as a given, as the be-all end-all of correctness and logic.
Another thing that makes no sense is the Immigration Law that some inbred, hickity-hick hillbillies in Arizona just passed. They are forcing people who look Hispanic to "show them their papers". How the FLUFF is this not RACIST? Of course, they say it's not a form of racial profiling, and that the utmost care will be exercised when asking individuals to prove their citizenship. What a load of crap. It's just another way for rich, racist, wastes of sperm to promote their agenda. You know who else used to ask people for their papers when they feared those people were different than them? NAZIS. Yeah, Donnie said it.
At least the folks at Archie Comics are taking a step toward equality. So, Donnie has to give them wicked, mad-phat props for that. Archie Comics is set to debut their first openly gay character, Kevin Keller. And he's supposed to be a real person, not one of those ridiculous stereotypes that exist in "reality" television, and in the minds of pathetic losers who think all gay people are abominations who will rot in hell. Disney is also trying to even the playing field by creating the first male "Tinkerbell" on their online gaming / social networking site, Pixie Hollow. Now, maybe dudes won't have to keep their Pixie fix a secret. Who is Donnie kiddin'? Donnie would still slap the ever-lovin' BE-JE-JE out of anyone on that site. Bring it on, fairy farts!
And now Donnie has to ask, what the eff happened to WWE? You have A guy who was getting a decent push, Kofi Kingston, now working dark matches before pay-per-views instead of working ON them, just because Randy mother humpin' Orton is a whine tit? (Randy deserved our
Fat Sack Of Crap
Award
for so many reasons.) You have Dolph Ziggler, a good looking, well conditioned athlete, who was once a contender for your Intercontinental title, jobbing to a leprechaun. And, your women's division is garbage. It seems that T&A should take a backseat to actual ability, especially in a "PG" world, but that would just make sense. You have Beth Phoenix who can actually perform, but she needs someone to work off of. Off the top of Donnie's head, how about, oh, AMAZING FRIGGIN' KONG?! How is Amazing /Awesome Kong NOT on the WWE roster? Sign her immediately, and put her in a program with Beth Phoenix. But do it right. Lead up to it. Don't just blow your load early with no place to go afterward. These women can make the women's division worth watching again. Donnie would love to have seen Beth and Kong working back in the days of Chyna and Nicole Bass. Throw in some Sensational Sheri, Rockin' Robin, Trish, Lita, Molly Holly and Lisa Marie Varon (Victoria / Tara), and THAT'S an amazing start to a worth-while female roster. (Google them. Then you will realize women in wrestling were not always a joke.)
Speaking of stupid moves by WWE, how the FART do you trade Jim Ross for Matt Stryker? Stryker is just a putz who's full of facts that no one gives a hooker's deep, diseased crevice about. And Donnie can't even hear the punk half the time. SPEAK UP, DOUCHE! Better yet, just go away. (And by the way, anyone who has seen Stryker's pee-pee in his "leaked onto the internets" pictures and thinks he's impressive, has OBVIOUSLY not had the pleasure of peering at Donnie's WANG-DANG-ER.) On the other hand, Ross put so much into his commentary. Emotion. Heart. Wrestling world story telling at it's best. WWE could really use Ross' talent, especially now because, well, let's face it. Raw needs all the help it can get. Case-in-point: Khaluber.
Can you believe this was once the monster that pinned
The Undertaker cleanly using just ONE FOOT?
Later turds,