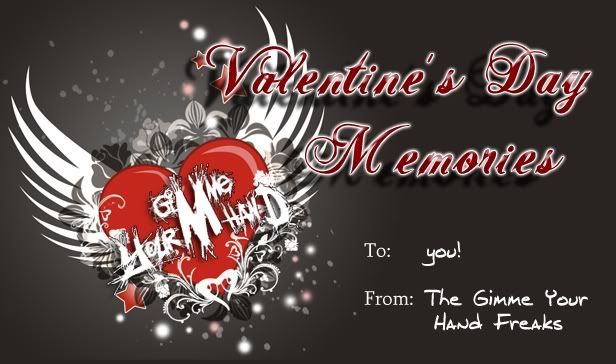 The staff here at Gimme Your Hand Entertainment was asked to share a Valentine's Day memory. Here's what they had to say:
Rex Delaney:
Well, it's not my best Valentine's memory, but a few years ago I wanted to surprise a chick I was seeing named Kim by picking her up from work and taking her back to my place for dinner and a movie. I was stoked because I made the food myself, and I was even willing to sit through a chick flick for her. I could imagine her being so happy that I showed up with chocolates and flowers in front of all her coworkers, that she would finally put out. When I got to the store where Kim worked, I saw her standing there holding a huge bouquet of flowers and hugging some other guy. I was so pissed! I didn't even think, I just threw down the gifts I had for her, and stormed up to the guy with his paws on my girl and spun him around. I heard Kim scream, "Rex!" The random hero just smiled like the biggest asshole on the planet. I punched that mother fucker right in the face and dropped him instantly. As I was being hauled out of the store by a group of people, Kim was hunched over the guy, and screaming at me. As it turns out, random hero was actually Kim's cousin who was visiting from Ohio. Her BLIND cousin. After I found out, I felt like shit and no amount of apologizing could fix it. Obviously, the night was ruined. So I went back home, threw the romantic shit in the trash, ordered a real movie, and rubbed one out.
Kylee Wylde:
Valentine's Day holds many cherished memories for me but one moment that really stands out took place last year. I was kind of bummed because my boyfriend said he was going to be out of town for Valentine's Day, and I really didn't want to spend it alone. I took my dog for a walk in the park for something to do. Coming home from the park, my cell phone rang. It was my boyfriend telling me he was stranded on the outskirts of town with a flat tire and no spare. He asked me to bring the emergency spare in my trunk to him so he could be on his way. I said sure and took off. He stayed on the phone with me and walked me through the directions like a human GPS. It was already getting dark, and I was a little freaked because I didn't know where I was going. I ended up following some back roads wondering why the heck he would be stranded out in the boonies, but his voice on the phone kept reassuring me I was almost there. I saw what looked like a fire in the distance, and as I got closer to it, I saw my man standing there with the cell phone to his ear, long stem roses in his hand, and a big goofy smile on his face. I got out of the car and realized he didn't have a flat tire at all. He had built a little romantic fire, and around it placed chocolates, rose petals, picnic food, and glasses filled with champagne. He wrapped a blanket around my shoulders and said "Happy Valentine's Day, babe."
Donnie Kendall:
Valentine's Day is such a pain in the crack. Do you have any idea how many pairs of panties have been thrown at Donnie on Valentine's Day? Some of the people didn't even bother to take them off first! People all over the world send tons of flowers and gifts to Donnie's door hoping that Donnie will give them a second thought. Donnie has been given trips around the world, cars, toys, games, clothing, a boat, electronics, pets, movie props, bedroom props (as if Donnie needs any help there), maid services, cake of the month memberships, cheese logs, toe-socks, jewelry, a Filipino little person, Cds, DVDs, PSPs, a hat, autographed sports memorabilia, singing telegrams, strip-o-grams, and even a star named after him. And that was all just LAST YEAR! So do Donnie a favor, keep your lousy gifts to yourself, do not hit "send" on that naked pic of you with a ribbon wrapped around your what-nots addressed to Donnie@gimmeyourhand.com, and don't expect Donnie to show up at your place ready to sweep you off your feet. You just ain't worth it. Now, if you'll excuse Donnie, he has to go burp a dwarf.
Mr. Blood:
I was asked a question at the l
ast GYHE meeting. What is your favorite Valentine's Day memory?
My favorite memory from Valentine's is the year I went out and gathered 12 female virgins and brought them back to my secret abode. Then proceeded to chain each one of them by the hands in shackles and cut their hearts out one by one. Making each and every one of them watch as I cut out the others heart, getting to hear my favorite sound over and over again. The sweet sound of screams. MMMMMMMMM. It makes my mouth water just thinking about that d
ay.
Administrator's Note: We probably should have done some sort of background check before hiring the staff. Kylee Wylde obviously doesn't fit in here. Happy Valentine's Day!